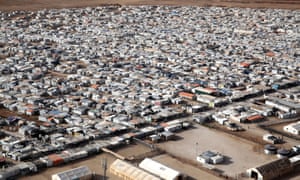 On a busy high street in northern Jordan, shoppers bustle past the stalls selling toys, shoes, bikes and kettles. In a kitchen nearby, a baker bakes the next day's bread. Across town, a couple prepare for their wedding, while a young boy prepares to return to school.
My favourite thing about Refugee Camp: Our Desert Home (BBC2) is that it portrays the residents of Zaatari, Jordan's fourth-biggest city, as just normal people. But the title gives the game away. Zaatari isn't a normal town. It's the world's biggest Syrian refugee camp. And just four years ago, none of its 80,000 residents lived there.
If you haven't heard of Zaatari, you might have seen it in photos. It's often used to show the scale of the Syrian refugee crisis (which has created more than five million refugees, and counting), usually broadcast as an aerial photo of the camp. Endless rows of prefab containers stretch into the desert – reminding us just how insulated Europe has been from the reality of the crisis.
.
Links: Screenshot
The Refugee Camp Our Desert Home S01E01 720p HDTV x264-C4TV
1.49 GB
Published on: Jul 22, 2016 @ 12:39
* * * * *
The Refugee Camp Our Desert Home S01E01 HDTV x264-C4TV
571.8 MB | Screenshot
Published on: Jul 22, 2016 @ 12:40
* * * * *
The Refugee Camp Our Desert Home S01E01 480p HDTV x264
421.2 MB | Screenshot
Published on: Jul 22, 2016 @ 13:27