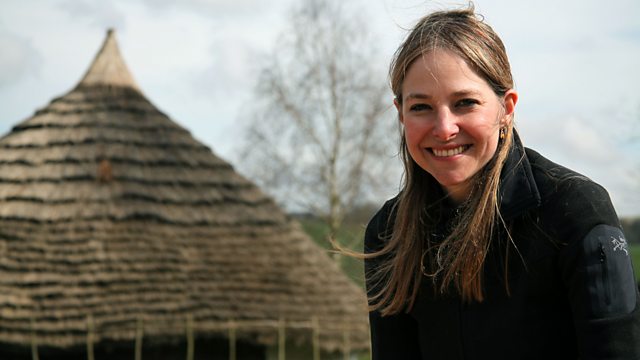 Professor Alice Roberts joins the team excavating a 3,000 year-old Bronze Age village in the Cambridgeshire Fens that's been called the 'British Pompeii'.
The village earned its nickname because, 3,000 years ago, it burned to the ground – as it burned, it fell into the peat, preserving both the houses and their contents. Until its discovery, we had little real idea of what life was like in Bronze Age Britain.
Now we can peek inside our Bronze Age ancestors' homes as archaeologists discover perfectly preserved roundhouses, and the contents inside them – right down to the utensils of their kitchens. These roundhouses were built in a style never seen in the UK before – testimony not only to the villagers' technical skills, but also of their connections to Europe.
.
Britains.Pompeii.A.Village.Lost.in.Time.720p.WEB.h264-spamTV
RELEASE.DATE________| 03/08/2016
GENRE_______________| Documentary
SOURCE______________| WEB
RESOLUTION__________| 1280×720
SIZE________________| 22x50m
FRAMERATE___________| 25.000fps
SUBTITLES___________| English
NOTES_______________|
Alice Roberts joins the team excavating a 3,000 year-old
Bronze Age village in the Cambridgeshire Fens that's been
called the 'British Pompeii', as it burned to the ground
.
Links: Screenshot
Britains Pompeii A Village Lost in Time 720p WEB h264-spamTV
1009.2 MB
Published on: Aug 03, 2016 @ 03:21
* * * * *
Britains Pompeii A Village Lost in Time XviD-AFG
1.24 GB | Screenshot
Published on: Aug 03, 2016 @ 03:32
* * * * *
Britains Pompeii A Village Lost in Time 480p x264-mSD
438.1 MB | Screenshot
Published on: Aug 03, 2016 @ 03:32
* * * * *
Britains Pompeii A Village Lost in Time HDTV x264-TM
580.3 MB | Screenshot
Published on: Aug 03, 2016 @ 14:59
* * * * *
Britains Pompeii A Village Lost in Time 720p HDTV x264 AAC MVGroup
1.48 GB | Screenshot
Published on: Aug 04, 2016 @ 22:20