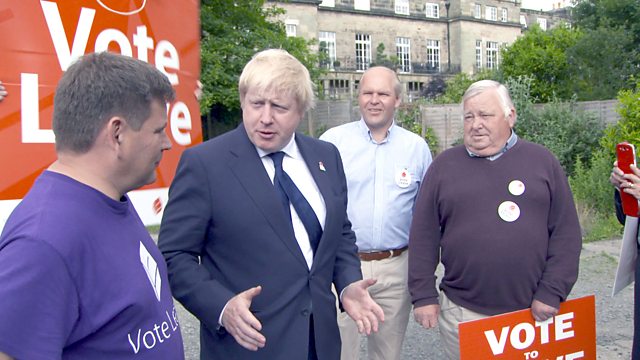 On 20 February, prime minister David Cameron officially set the date for the British public's vote on whether to remain a member of the European Union. What followed was months of campaigning, debate, claims and a political drama fought out in the press, which resulted in the resignation of David Cameron and the subsequent Conservative leadership contest. But what did the British public not witness?
During this historic political event, BBC Two had behind-the-scenes access to document every twist and turn of the Leave campaign and the race for the Conservative leadership that followed. Bafta winner Patrick Forbes filmed from the early days until the extraordinary events after the vote.
The unseen footage lays bare the ambition, passion, strategy and animosity that existed and propelled the Leave campaign. This is the real story of the campaign for Brexit as told by a host of key people as they lived and breathed it – whether it is Brexiteers Nigel Farage, Gisela Stuart and Liam Fox or Remain's Michael Heseltine and Alan Duncan – all speaking with a candour and frankness rarely seen on television.
.
Links: Screenshot
Brexit A Very British Coup 2016 720p HDTV x264-C4TV
1.05 GB
Published on: Sep 23, 2016 @ 19:33
* * * * *
Brexit A Very British Coup 2016 XviD-AFG
842.3 MB | Screenshot
Published on: Sep 23, 2016 @ 19:42
* * * * *
Brexit A Very British Coup 2016 480p x264-mSD
348.3 MB | Screenshot
Published on: Sep 23, 2016 @ 19:50
* * * * *
Brexit A Very British Coup 2016 720p HEVC x265-MeGusta
541.2 MB | Screenshot
Published on: Sep 24, 2016 @ 14:15